Some time ago, we tried a new idea on a special edition of Radio Freaconomica – a game show we called Tell Me Something I Do not Know. You may remember that. It was so much fun that we decided to launch a new podcast series. It had been in the works for a while and it is finally here! A preview episode of the first season of TMSIDK is now available.
Please take a minute to sign up and, if you like the sound of the preview episode, please leave a rating and / or review on iTunes – it's really important to help launch a new show.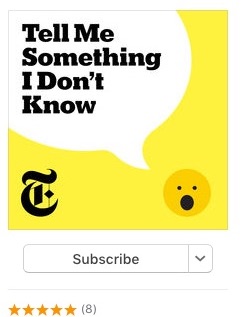 Like all the Freakonomics things we do, TMSIDK it's still journalism, still factual, but masked in the most sparkling conversation you can handle. In each episode, contestants from the audience take the stage and tell us something fascinating (or shocking, or just plain weird) as a panel of three experts tries to figure out what's worth knowing and what's not.
Speakers come from an eclectic group of wise people, such as the president of Barnard College Debora Spar; President of the New York Public Library Tony Marx; former White House economist Austan Goolsbee; Jesuit writer and thinker Giacomo Martino; bioethicist Zeke Emanuele; former head of the White House Sam Cass; Microsoft researcher Danah Boyd; the cardiac surgeon and television doctor dr ounce; poker champion Annie Duca; the linguist John McWhorter; the grit author Angela Duckworth; and the guru of happiness Gretchen Rubin.
We also have many comedians and humorists, including Keisha Zollar, Chris Gethard, Frank Delaney, Andy ZaltzmanAnd Hannibal Buress. And occasionally a globetrotting adventurer like the author Simone Winchester.
It's all hosted by Stephen J. Dubnerwhich is accompanied every night by a human fact-checker in real time to keep everyone (mostly) honest.
Sign up today to never miss an episode. The first will be released on November 7th. Season 1 will consist of six episodes and we are already recording the second in New York City (in December and January), so come join in or get your tickets to see the show. You can also follow TMSIDK On TwitterFacebook and Instagram.