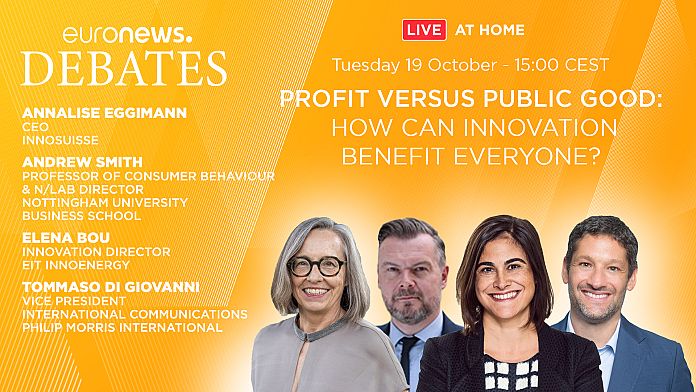 The tech sector faces a sharper scrutiny after a former Facebook employee-turned-whistleblower accused the company of knowingly putting profits ahead of public safety and provided thousands of internal documents to back the claims.
As calls for more regulation grow louder, citizens, policymakers and innovators are asking themselves: How can we ensure that technology serves the common good without stifling innovation? Can innovation be both profitable and consider the common good?
Euronews assembled a panel of experts to discuss these questions during a live debate and offer their thoughts on how innovation can benefit everyone.
You can watch highlights of the debate in the video player at the top of this article.
Innovation drives today's global economy. The deployment and use of technology is seen as key to increasing productivity and growth while reducing the impact on the planet's precious, finite resources. This should be accompanied by prosperity, an increased standard of living and positive effects on society. That's the theory. But who really benefits from the fact that most innovations are driven by the private sector?
Pre-pandemic research found that "the global digital economy is worth $11.5 trillion, or 15.5 percent of global GDP, and has grown two and a half times faster than global over the past 15 years GDP".
COVID-19 and the new digital habits it brought with it have continued to bolster the profits and power of tech giants, with the top five companies (Amazon, Apple, Google, Microsoft and Facebook) posting combined sales of over 1, reported €04 trillion.
With so much power in the hands of private corporations, how do they fit with the mood of today's broader society? Those who increasingly want to know that new technologies are safe and good for the environment and do not violate their privacy and human rights. And all in a world of disinformation and dwindling trust.
Watch the entire live debate here:
The Challenge of Trust
According to Andrew Smith, professor of consumer behavior and N/LAB director at Nottingham University Business School, consumers don't want to be overwhelmed with information.
"Very often we assume that consumers have all the information they need to make rational decisions. In fact, they don't always have that information, and that's a problem for companies looking to innovate," said Tommaso Di Giovanni, vice president and international communications at Philip Morris International.
"We're generally illiterate," said Elena Bou, innovation director at EIT InnoEnergy. "We need more communication and pedagogy and a lot of education to have enough information to be able to make decisions."
The need for an ecosystem
The future of technology and innovation is expected to depend on collaboration between the private and public sectors. Since start-ups come closest to this ideal, both need to work together.
Annalize Eggiman, CEO of Innosuisse, said her organization's mission is to "bring the science sector and the private sector together," which isn't always easy, especially because science can be "intimidating." But in the end, this cooperation can be very beneficial for both sides.
"It's an ecosystem that needs to be created to be successful, not just a company," Di Giovanni agreed. "There's product development, and then there's science to validate it."
Does it need more regulation or just the right kind of regulation?
Euronews polled readers ahead of the debate and 83% of respondents said they thought more regulation was needed to ensure the technology served the public good.
Smith backs up this finding when it comes to the digital space: "Sometimes we can't control our own behavior, we need regulation to prevent our own behavior from harming us and others."
However, according to Di Giovanni, too many regulations can sometimes become an obstacle for companies.
"Regulations should create incentives for companies to pursue the common good," said Di Giovanni. "The more you find a way to combine profit and the common good, the more we will see innovation. It is more a question of the quality of the regulations."
"It depends on what kind of legislation the legislation aims to help create the market conditions for innovation," Elena Bou added.
"Companies that innovate should be given some kind of innovation privilege, also depending on the product they bring to market," Annalize Eggiman said when asked about taxes related to innovation.
"But with regard to the innovation process, it is important that the public sector provides certain incentives."
Get to know our panel
Annalize Eggimann, CEO, Innosuisse – The management of the Swiss Agency for Innovation supports Swiss start-ups and promotes science-based innovations for the benefit of the economy and society in Switzerland.
Tommaso di Giovanni**, Vice President, International Communications, Philip Morris International** – The corporate communications specialist's work focuses on raising global awareness of the opportunities innovation, science and technology offer to achieve a smoke-free world.
Andreas Schmidt, Professor of Consumer Behavior & N/LAB Director, Nottingham University Business School – The academic specializes in consumer behavior and psychology with a focus on ethical decision-making.
Elena Bou, Innovation Director, EIT Innoenergy – The researcher, practitioner and professor of innovation founded the European incubator EIT InnoEnergy in 2010. Since then, the company has backed nearly 500 sustainable energy startups, including two unicorns.
damon embling,Euronews presenter – Damon is an experienced broadcast journalist with over 20 years of professional experience gained in the UK, across Europe and worldwide. At Euronews, he regularly produces and presents programs focusing on business, travel and tourism, and technology.