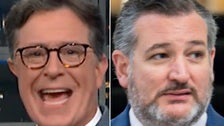 Stephen Colbert attacked Sen. Ted Cruz (R-Texas) Monday for changing his vote and blocking passage of the PACT bill that would have expanded health care benefits for veterans exposed to toxins like the cremation pits in Iraq and Afghanistan .
Or as the Late Show host described him, "Senator from Texas, and asshole, all dressed up for his prostate exam."
"I imagine there are some veterans out there who would love to hit Ted Cruz with their fists, too," Colbert erupted.
Cruz was among many Republicans who voted for the seemingly uncontroversial bill in June when it passed the Senate by an 84-14 vote. But last week he joined 24 other Republicans in changing their votes and blocking the bill.
Critics said it was a defiant move out of dissatisfaction with Democrats for reaching a deal to increase taxes on the wealthy and invest in both climate and healthcare. Colbert called it "soon to be cynical" and "pointlessly vicious".
With GOP lawmakers flipping their votes, Colbert offered a different kind of flip in return:
Watch his full takedown in his Monday night monologue: