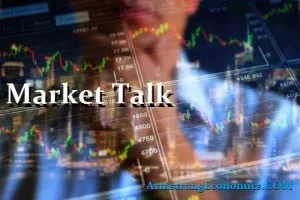 ASIA:
A private survey showed factory activity in India grew at the fastest pace of the past eight months in July, driven by solid growth in new orders and production as demand continued to improve on the back of easing business. price pressures. The survey results suggest that the Indian economy has remained resilient, at least for now, despite fears of faster interest rate hikes, massive capital outflows, a weakening of the rupee and a rapid slowdown in the global economy. The Manufacturing Purchasing Managers Index (INPMI = ECI), compiled by S&P Global, jumped to 56.4 in July from 53.9 in June, remaining above the 50 level which separates growth from contraction for the thirteenth month. The RBI, which has already raised its benchmark interest rate by 90 basis points cumulative since the beginning of May, is expected to raise it again this week.
The International Monetary Fund (IMF) cut its economic growth forecast for Singapore, in line with its recent warning that it will cut its estimates for the global economy later this month. The IMF said Singapore's economy will grow 3.7% this year, in a national report released on Friday (July 22) after consultations with local officials. The IMF said the pace of growth will be slower this year than a 7.6% increase in 2021 as trade-related sectors could moderate due to supply constraints, while the recovery in the hardest hit sectors – tourism and aviation, consumer goods and construction – has just started. However, the IMF kept its forecast for Singapore's main inflation at 4.8%, which includes all goods and services.
Major Asian equity markets had a mixed day today:
NIKKEI 225 was down 398.62 points or -1.42% to 27,594.73
Shanghai fell 73.69 points or -2.26% to 3,186.27
Hang Seng fell by 476.63 points or -2.36% to 19,689.21
ASX 200 is up 5.10 points or 0.07% to 6,998.10
Kospi was down 12.63 points or -0.52% to 2,439.62
SENSEX was up 20.86 points or 0.04% to 58,136.36
Nifty50 is up 5.40 points or 0.03% to 17,345.45
The major Asian currency markets had a mixed day today:
AUDUSD fell by 0.00944 or -1.34% to 0.69314
NZDUSD fell by 0.0065 or -1.03% to 0.62660
USDJPY is up 1.360 or 1.03% to 132.903
USDCNY fell by 0.02295 or -0.34% to 6.76135
Precious metals:
l Gold fell by USD 4.74 / toz. or from -0.27% to 1,765.21
l Silver decreased by USD 0.303 / t. oz or -1.49% at 20,006
Some economic news from last night:
Japan:
The monetary base (on an annual basis) decreased from 3.9% to 2.8%
South Korea:
CPI (YoY) (July) increased from 6.0% to 6.3%
CPI (Monthly) (July) decreased from 0.6% to 0.5%
Australia:
Building Approvals (Monthly) (June) decreased from 11.2% to -0.7%
Home loans (Monthly) decreased from 2.1% to -3.3%
Invest Housing Finance (Monthly) decreased from 0.9% to -6.3%
Private home approvals (June) increased from -2.1% to 1.2%
Some economic news today:
India:
Exports (USD) (July) remain the same at 35.24 billion
Imports (USD) (July) remain the same at 66.26 billion
Trade balance (July) decreased from 31.02 billion to -31.02 billion
Hong Kong:
Retail sales year-over-year (June) increased from -1.7% to -1.2%
Australia:
RBA interest rate decision (August) increased from 1.35% to 1.85%
Raw material prices (on an annual basis) fell from 29.2% to 14.1%
New Zeland:
The GlobalDairyTrade price index remains the same at -5.0%
EUROPE / EMEA:
The Bank of England is expected to make its largest rate hike in 27 years this week, dissolving some of the £ 895 billion ($ 1.1 trillion) stimulus it has provided over the past decade. The move would accelerate a historic tightening of monetary policy to quell the worst inflation spike of the past 40 years. gov. Andrew Bailey and his colleagues have warned that prices could rise 11% this year, well above his 2% target. The investor sees a 70% chance that his BOE in the benchmark will increase by 0.5 points to 1.75%. This is the highest since the 2009 global financial crisis. Most economists see a move of this magnitude this week as well, but some economists say Morgan Stanley and NatWest Markets saw a 4-point decline, citing greater risks of a recession. it is said of high quality.
Bad day for the main European stock exchanges:
The CAC 40 decreased by 27.06 points or -0.42% to 6,409.80
The FTSE 100 decreased by 4.31 points or -0.06% to 7,409.11
The DAX 30 decreased by 30.43 points or -0.23% to 13,449.20
The major European currency markets had a mixed day today:
EURUSD fell 0.00834 or -0.81% to 1.01803
GBPUSD fell 0.00726 or -0.59% to 1.21811
USDCHF is up by 0.00687 or 0.72% to 0.95637
Some economic news from Europe today:
UK:
National HPI (Monthly) (July) decreased from 0.2% to 0.1%
National HPI (year over year) (July) increased from 10.7% to 11.0%
Swiss:
SECO Consumer Climate (Q3) decreased from -18 to -28
PMI procure.ch (July) decreased from 59.1 to 58.0
Spain:
The change in Spanish unemployment increased from -42.4 thousand to 3.2 thousand
Spanish consumer confidence fell from 65.8 to 55.5
USA / AMERICA:
A new study found that retailers in America are expanding despite fears of inflation and recession. America's largest mall owner, Simon Property Group, reported 93.9% occupancy in its malls and outlets this June, an increase from last year's reading of 01.8%. The group said places like Florida and Los Vegas are fueling the rebound that tourists are eager to spend. US retailers opened 4,432 stores in 2022, up from 1,954 closures. The retail industry only managed to add a network of 68 new stores last year, making this a notable improvement.
The "Great Resignations" may still be ongoing in the United States as 4.2 million people quit their jobs in June. Approximately 10.7 million new job opportunities were made available in June, down from 11.3 million the previous month, but up 50% year-on-year. There are currently 1.8 jobs for every unemployed American. People are fighting for better jobs and using the shortage of workers to their advantage. New hires reached 6.4 million, offsetting the number of resignations. The unemployment rate remained stable at 3.6% in June.
The US market closes:
Dow fell 402.23 points or -1.23% to 32,396.17
S&P 500 fell 27.44 points or -0.67% to 4,091.19
The Nasdaq fell 20.22 points or -0.16% to 12,348.76
Russel 2000
Closing of the Canadian market:
Closing of the Brazilian market:
POWER:
Today the oil markets had a mixed day:
l Crude oil rose USD 0.55 / BBL or 0.59% to 94.501
l Brent rose by USD 0.49 / BBL or 0.49% to 100.320
l Natural gas decreased by 0.526 USD / MMBtu or -6.35% to 7.7664
l Gasoline increased by USD 0.0623 / GAL or 2.08% to 3.0588
l Heating oil fell by USD 0.067 / GAL or -1.95% to 3.3799
The above data was collected around 2:26 pm EST on Tuesday
l Best commodity earnings: gasoline (2.08%), potatoes (2.70%), orange juice (1.23%) and rhodium (1.74%)
l Main losers in commodities: palladium (-6.07%), canola (-5.75%), oats (-6.75%) and natural gas (-6.35%)
The above data was collected around 2:33 PM EST on Tuesday.
OBLIGATIONS:
Japan 0.175% (-1bps), United States 2 3.07% (+ 0.164%), United States 10 2.7392% (+13.42bps); US 30's 2.99% (+ 0.064%), Bund 0.7820% (+2.1 bps), France 1.3790% (+3.3 bps), Italy 3.031% (+4.5 bps), Turkey 17.00% (+0 bps), Greece 2.957% (+ 3.9 bps), Portugal 1.887% (+10 bps); Spain 1.934% (+7.7bps) and British Gilts 1.8660% (+5.8bps).