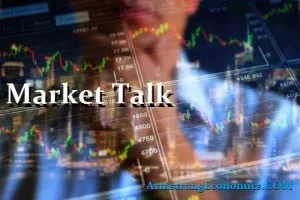 ASIA:
A private survey showed that growth in India's dominant service sector slowed sharply in July, weighed down by strong inflationary pressures and weaker demand, leading to a further decline in business expectations. S&P Global India Services 'Purchasing Managers' Index fell to 55.5 in July from 59.2 in June, the lowest since March and below expectations in a Reuters poll of 58.5. But the index was above the 50 mark that separates growth from decline for a year, and the July data was above the long-term average. Like many other countries, Asia's third largest economy is struggling with soaring inflation – at its highest in nearly a decade – exacerbated by rising commodity prices. A weaker rupee further increased imported inflation. The Reserve Bank of India (RBI) began its tightening cycle in May, lagging behind most of its counterparts, but is expected to initiate subsequent hikes to combat inflation.
Major Asian equity markets had a mixed day today:
NIKKEI 225 is up 190.30 points or 0.69% to 27,932.20
Shanghai was up 25.37 points or 0.80% to 3,189.04
Hang Seng is up 406.95 points or 2.06% to 20,174.04
ASX 200 decreased by 1.00 points or -0.01% to 6,974.90
Kospi was up 11.66 points or 0.47% to 2,473.11
SENSEX decreased by 51.73 points or -0.09% to 58,298.80
Nifty50 was down 6.15 points or -0.04% to 17,382.00
The major Asian currency markets had a mixed day today:
AUDUSD rose 0.0033 or 0.48% to 0.69760
NZDUSD was up 0.00337 or 0.54% to 0.63037
USDJPY fell 1.047 or -0.78% to 133.048
USDCNY fell 0.00865 or -0.13% to 6.75185
Precious metals:
l Gold rose by USD 28.89 / toz. or 1.64% to 1,795.71
l Silver increased by USD 0.188 / t. ounces or 0.94% at 20,260
Some economic news from last night:
Japan:
The purchase of foreign bonds decreased from 112.0 billion to 37.1 billion
Foreign investment in Japanese equities decreased from 297.6 billion to -120.3 billion
Australia:
Exports (monthly) (June) decreased from 8.9% to 5.1%
Imports (Monthly) (June) decreased from 5.0% to 0.7%
The trade balance (June) increased from 15.016 billion to 17.670 billion
EUROPE / EMEA:
OPEC + will increase its oil production target by 100,000 barrels per day, a setback analysts say is a setback for US President Joe Biden following his trip to Saudi Arabia, where he asked to the producer group leader to pump more to help the United States and the world economy. The increase of 100,000 barrels per day will be one of the smallest since OPEC quotas were introduced in 1982, according to OPEC data. The Organization of the Petroleum Exporting Countries and its Russian-led allies, a group known as OPEC + formed in 2017, increased production by about 430,000 to 650,000 barrels per day in one month, ending record supply cuts that occurred after the end of the pandemic blockade.
Less than a month after raising interest rates for the first time in over a decade, traders are betting that the European Central Bank is already at a third of its tightening cycle. Money markets indicate that the central bank will raise rates by another 100 basis points, or 1 percentage point. That's about half of what was expected at the end of July. ECB officials raised rates by 50 basis points last month, but since then more and more economists have predicted that the euro zone will succumb to recession this year, limiting the central bank's ability to tighten policy. The combination of a more moderate rise in interest rates and a looming recession has led investors to sell the euro and buy government bonds. German two-year notes are losing 0.21%, the lowest since May. The euro weakened 0.2% to $ 1.0238.
Major European exchanges had a green day:
The CAC 40 increased by 41.33 points or 0.64% to 6,513.39
The FTSE 100 is up 2.38 points or 0.03% to 7,448.06
The DAX 30 is up 75.12 points or 0.55% to 13,662.68
The major European currency markets had a mixed day today:
EURUSD is up 0.00888 or 0.87% to 1.02479
GBPUSD rose 0.00302 or 0.25% to 1.21707
USDCHF fell by 0.00594 or -0.62% to 0.95456
Some economic news from Europe today:
Germany:
German Factory Orders (monthly) (June) decreased from -0.2% to -0.4%
IHS S&P Global Construction PMI (July) decreased from 45.9 to 43.7
UK:
The construction PMI (July) decreased from 52.6 to 48.9
BoE interest rate decision (August) increased from 1.25% to 1.75%
USA / AMERICA:
Initial jobless claims hit 260,000 last week, marking a high not seen in the United States since November. The week before it was revised up by 6,000, according to the Department of Labor. The Bureau of Labor Statistics will release the highly-followed Nonfarm Payrolls report for July this Friday. Analysts expect employment growth to hit 258,000 last month, down from 372,000 in June.
The US goods and services trade deficit fell to $ 79.6 billion in June, down slightly from the previous month's $ 5.3 billion deficit. Exports rose to a high of $ 260.8 billion or 1.7%, according to the Commerce Department, while imports fell to $ 340.4 billion or 0.3%.
The US market closes:
Dow fell 85.68 points or -0.26% to 32,726.82
S&P 500 fell 3.23 points or -0.08% to 4,151.94
The Nasdaq advanced 52.42 points or 0.41% to 12,720.58
Russell 2000 fell 2.47 points or -0.13% to 1,906.46
Closing of the Canadian market:
TSX Composite advanced 31.1 points or 0.16% to 19,577.04
TSX 60 advanced 2.71 points or 0.23% at 1,184.05
Closing of the Brazilian market:
Bovespa advanced by 2,117.54 points or 2.04% to 105,892.22
POWER:
Bad day for oil markets:
l Crude oil fell by USD 2.26 / BBL or -2.49% to 88.573
l Brent fell USD 2.85 / BBL or -2.94% to 94.055
l Natural gas decreased by USD 0.078 / MMBtu or -0.94% to 8.1821
l Gasoline decreased by USD 0.1285 / GAL or -4.41% to 2.7884
l Heating oil fell by USD 0.0927 / GAL or -2.71% to 3.3285
The above data was collected around 2:58 PM EST on Thursday
l Best commodity earnings: Platinum (3.61%), Cocoa (2.98%), Soybeans (3.66%) and Zinc (5.65%)
l Main losers in raw materials: Brent (-2.94%), Bitumen (-2.85%), Diesel (-2.71%) and Petrol (-4.41%)
The above data was collected around 3:04 PM EST on Thursday.
OBLIGATIONS:
Japan 0.175% (-1.4 bps), United States 2 3.03% (-0.078%), United States 10 2.6720% (-7.6 bps); US 30's 2.96% (-0.019%), Bund 0.8090% (-6.5 bps), France 1.3520% (-8.8 bps), Italy 2.969% (-5.4 bps), Turkey 16.72% (-9bps), Greece 2.977% (-6.9bps), Portugal 1.849% (-7.5bps); Spain 1.925% (-6.3bps) and British Gilts 1.8870% (-2.6bps).