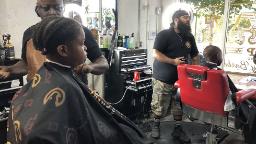 ATLANTA, Georgia (CBS46) – Fulton and DeKalb counties start their first day of school on Monday, and The Swag Shop makes sure their students look fresh for the first day.
The swag shop is a place where you might see musicians or athletes getting their hair ruffled, but on Saturday it was the kids who got their hair cut.
"I can't go to school in bad shape," said George Mathis, a tenth grade student.
The Witherite Law Group and V-103 teamed up with rapper Killer Mike's barbershops to prepare the Fulton and DeKalb County kids for their first day of school on Monday.
"It's a boost to self-esteem. You know, feeling your best, looking your best, showing up on the first day of school, making the first impression. It just goes a long way, "said Kimm White, the general manager of The Swag Shop.
"We try to give really great blessings to families in need," said Big Tigger. "Amy Witherite [Witherite Law Group owner] goes out of its way to help give back to the community it serves. I have my good brother Killer Mike who is the owner of the two SWAG store locations we are using. Amy is an amazing supreme benefactor and I am happy to be involved. This is the people's station and we serve the people. It's the right thing to do to give back and connect to the people who listen to us and support us. "
With the current inflation rate above 10%, the groups wanted to make sure that parents could afford everything their children need for school.
"The essential is really all that many people can really afford, so if we can make it a little easier for families, just something they don't have to worry about, something kids don't have to worry about on their first day back. at school, I mean, it makes a difference, "said Adewale Odetunde, a lawyer with the Withrite Law Group.
A difference for nearly 200 kids, including Mathis. How did you feel about his new cut?
"It's difficult."
Praise from a teenager.
Copyright 2022 WGCL. All rights reserved.