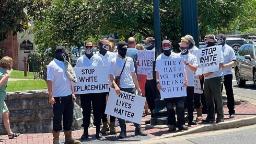 FRANKLIN, Tenn. (WSMV) – Two different protest groups were asked to leave downtown Franklin on Saturday after attempting to disrupt the Juneteenth celebration.
Franklin police said one of the groups was made up of people carrying "White Lives Matter" and "Stop White Replacement" signs. They added that another group, which claimed to be a buffer between festival attendees and the other group, included people armed and wearing ballistic vests.
Members of each group were also reportedly handing out brochures claiming that they were protesting that "the anti-white system is engaged in our physical genocide" to festival attendees before the police arrived.
The authorities asked both groups to leave and they obeyed. No violence or arrests were reported following the intervention of Franklin officers.
Confrontation aside, there were big smiles at the celebration organized by the Franklin Justice and Equity Coalition.
"Bring people together and you get networking," said Carol Johnson. "Show the world that we can come together and come together to do different things."
More than 100 companies, food vendors and churches attended the event.
Copyright 2022 WSMV. All rights reserved.