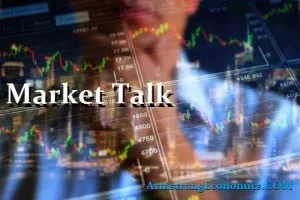 ASIA:
Some board members of the Bank of Japan were concerned that excessive currency volatility could disrupt corporate business plans, the bank meeting minutes in April showed that it highlighted the challenge for policymakers from the sharp decline in the yen. At its April 27-28 meeting, the BOJ strengthened its commitment to keeping interest rates extremely low by promising to buy unlimited amounts of bonds every day to defend its yield target, triggering a fresh yen sale. The weak yen has become a new challenge for Japanese politicians as it damages the economy by inflating the already rising costs of importing fuels and raw materials.
Bad day for major Asian equity markets:
NIKKEI 225 decreased 96.76 points or -0.37% to 26,149.55
Shanghai fell 39.52 points or -1.20% to 3,267.20
Hang Seng was down 551.25 points or -2.56% to 21,008.34
ASX 200 is down 15.30 points or -0.23% to 6,508.50
Kospi was down 66.12 points or -2.74% to 2,342.81
SENSEX decreased by 709.54 points or -1.35% to 51,822.53
Nifty50 decreased by 225.50 points or -1.44% to 15,413.30
The major Asian currency markets had a mixed day today:
AUDUSD fell by 0.00247 or -0.35% to 0.69331
NZDUSD fell 0.00413 or -0.65% to 0.62877
USDJPY fell 0.158 or -0.12% to 136.183
USDCNY is up 0.0154 or 0.23% to 6.70660
Precious metals:
l Gold rose by USD 6.05 / toz. or from 0.33% to 1,838.61
l Silver decreased by USD 0.196 / t. ounces or -0.90% at 21,470
Some economic news from last night:
Australia:
MI Leading Index (MoM) increased from -0.2% to -0.1%
New Zeland:
Credit card spending (year-on-year) increased from 1.3% to 2.2%
Exports (May) increased from 6.16 billion to 6.95 billion
Imports (May) increased from 5.72 billion to 6.69 billion
Trade balance (monthly) (May) decreased from 440 million to 263 million
Trade balance (year over year) (May) decreased from -9,290 million to -9,520 million
Some economic news today:
India:
The current account (USD) decreased from 24 trillion to -38.7 trillion
Balance of payments (USD) (Q1) decreased from 0.5 trillion to -16 trillion
Current Account% of GDP (QoQ) (Q1) decreased from 2.70% to 1.50%
Current account (USD) (Q1) increased from -22.20 billion to -13.40 billion
Trade balance (USD) (Q1) increased from -60.4 trillion to -54.5 trillion
EUROPE / EMEA:
Inflation in the UK, the rate at which prices rose, rose to 9.1% in the 12 months to May, from 9% in April, the Office for National Statistics (ONS) said. Fuel and energy prices are the biggest drivers of inflation, but the ONS said food costs pushed it further. Currently, inflation is at its highest level since March 1982, when it also stood at 9.1% and the Bank of England has warned it will hit 11% this year.
Bad day for the main European stock exchanges:
The CAC 40 decreased by 48.03 points or -0.81% to 5,916.63
The FTSE 100 decreased by 62.83 points or -0.88% to 7,089.22
The DAX 30 decreased by 148.12 points or -1.11% to 13,144.28
Major European currency markets had a mixed day today:
EURUSD was up 0.00464 or 0.44% to 1.05777
GBPUSD was up 0.00073 or 0.06% to 1.22707
USDCHF decreased by 0.00391 or -0.40% to 0.96219
Some economic news from Europe today:
UK:
The house price index (year over year) increased from 9.8% to 12.4%
Input PPI (Monthly) (May) decreased from 2.7% to 2.1%
CPI (Monthly) (May) decreased from 2.5% to 0.7%
CPI (YoY) (May) increased from 9.0% to 9.1%
Euro zone:
Consumer confidence (June) decreased from -21.2 to -23.6
USA / AMERICA:
Powell took to Congress today to tell the public what he needed to hear: The Federal Reserve is prioritizing inflation. "At the Fed, we understand the difficulties that high inflation is causing. We are strongly committed to bringing inflation back down and are moving quickly to do so, "Powell said. The Fed will need to see" compelling evidence "that inflation is gradually easing before redirecting its course." We expect that to continue. rate hikes will be appropriate; the pace of such changes will continue to depend on incoming data and the evolving outlook for the economy. " The latest rate hike of 75 basis points was the largest on record since 1994. Although he didn't indicate what to expect in July, Powell said he sees rates continue to rise at a "moderately restrictive level."
The US market closes:
Dow fell 47.12 points or -0.15% to 30,483.13
S&P 500 fell 4.9 points or -0.13% to 3,759.89
The Nasdaq fell 16.22 points or -0.15% to 11,053.08
Russell 2000 fell 3.75 points or -0.22% to 1,690.28
Closing of the Canadian market:
TSX Composite fell 253.25 points or -1.32% to 19,004.04
TSX 60 fell 12.65 points or -1.08% to 1,155.42
Closing of the Brazilian market:
Bovespa lost 162.18 points or -0.16% to 99.522.32
POWER:
Today the oil markets had a mixed day:
l Crude oil fell by USD 4.41 / BBL or -3.99% to 106.240
l Brent was down USD 3.18 / BBL or -2.77% to 111.47
l Natural gas increased by USD 0.073 / MMBtu or 1.07% to 6.8540
l Gasoline fell by USD 0.022 / GAL or -0.58% to 3.7725
l Heating oil fell by USD 0.0786 / GAL or -1.80% to 4.2798
The above data was collected around 1:05 PM EST on Wednesday
The best commodity earnings: rubber (1.28%), natural gas (1.07%), rhodium (1.12%) and coffee (2.32%)
Main losers in raw materials: canola (-4.22%), bitumen (-2.96%), palm oil (-9.66%) and crude oil (-3.99%)
The above data was collected around 1:12 PM EST on Wednesday.
OBLIGATIONS:
Japan 0.238% (+0.3 bps), United States 2 3.07% (-0.126%), United States 10 3.1561% (-12.26 bps); US 30's 3.24% (-0.106%), Bund 1.630% (-13.2 bps), France 2.1720% (-16.6 bps), Italy 3.648% (-14.3 bps), Turkey 18, 87% (+0 bps), Greece 3.868% (- 4.7 bps), Portugal 2,700% (-11.3 bps); Spain 2.735% (-11.7bps) and UK Gilts 2.4880% (-16.3bps).