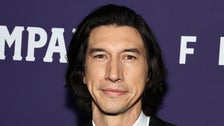 Adam Driver wasn't feeling one moviegoer's question about his new film "Ferrari" during a Q&A at Poland's Camerimage Film Festival on Sunday.
An audience member questioned Driver, who stars in the upcoming sports drama about racing icon Enzo Ferrari, about the film's car crash scenes before the actor responded with an explicit choice of words.
"What do you think about crash scenes? They looked pretty harsh, drastic and — I must say — cheesy for me. What do you think?" asked the moviegoer about the Michael Mann-directed biopic.
"Fuck you. I don't know. Next question," Driver replied.
Driver's "Ferrari" performance won him the festival's Special EnergaCamerimage Award for an Actor this weekend.
The film, which also stars Penélope Cruz, Shailene Woodley and Sarah Gadon, is set for a wide release on Christmas Day.
Mann told a New York Film Festival press conference last month that several of the actors in the film test drove "contemporary Ferraris" in pre-production, Variety reported.
"I wanted everybody to have an experience driving these cars on a racetrack," he said.
Driver revealed at this year's Venice International Film Festival that the mentality linked to racing cars in pre-production makes you become "painfully aware" in what he described as the "opposite of escapism," according to IndieWire.
"It's absolutely focused on the mindset of what's happening right now. There's no room for daydreaming or losing focus in attention, because you'll crash, obviously," he said.
"The mindset was helpful in playing the character. It's impulsive. It's pre-psychology. He's making decisions in a vacuum."