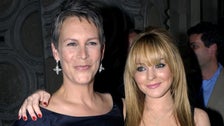 Curtis shared a reunion snap with Lohan on Instagram and included a caption that touched on how the fellow actor has changed since the 2003 comedy.
"Too late. YOU GREW UP and SO BEAUTIFULLY!" wrote Curtis alongside a photo of the two smiling together.
"Well, it's Friday, and the strike is over so hopefully, we can switch places again in the near future! @lindsaylohan @disney," she added.
The caption adds to a string of news over the past year and change about a sequel to the 2003 version of "Freaky Friday," which is based on the 1972 Mary Rodgers novel of the same name.
Curtis told the New York Times that fans hit her with questions about a sequel while she went around the world to promote "Halloween Ends" last year.
"Something really touched a chord. When I came back, I called my friends at Disney and said, 'It feels like there's a movie to be made,'" she said.
"We all judge both sides really harshly. It's that old adage of, 'Walk a mile in my shoes,'" she said.
"'Freaky Friday' is one of those great examples of, you're challenging somebody because they make you angry because of their limitations. And then you walk in their shoes and recognize that, in fact, all of those restrictions are there for a reason."