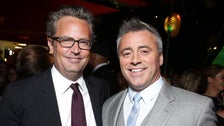 "It is with a heavy heart I say goodbye," LeBlanc's post began. "The times we had together are honestly among the favorite times of my life."
Perry died Oct. 28 in what appeared to be a drowning incident at his home.
"It was an honor to share the stage with you and to call you my friend," added LeBlanc, who played Joey to Perry's Chandler on "Friends." "I will always smile when I think of you and I'll never forget you. Never."
The actor then said he wanted Perry to "Spread your wings and fly brother you're finally free. Much love."
But since the two actors became famous on a comedy show, LeBlanc couldn't help but end his post with a joke: "And I guess you're keeping the 20 bucks you owe me."
You can see the post embedded below:
This isn't LeBlanc's only tribute to Perry.