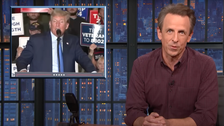 Seth Meyers on Monday pulled no punches with his commentary on former President Donald Trump's reported plans to exact revenge against his critics and opponents and go all-in against immigration with raids and mass deportations if he wins back the White House in 2024.
The "Late Night" comedian first recorded a spoof clip pretending to suck up to the former president, telling Trump that, "I've always liked you" and thought he's "handsome, strong and rich."
Meyers then instructed his team to isolate the clip for the consumption of Trump, before revealing what he really thought.
"Fuck this dipshit. Racist doofus thinks he can swoop in and set up a dictatorship in 2024 despite having, like, nine sets of handcuffs on him," he sniped.
Trump sometimes "dances on stage like a guy in a locker room who's trying to towel off his ball sack," added Meyers. But he "is very much planning on completing his authoritarian takeover if he wins in 2024 and it's clear he's got the support of the Republican party which has become a movement fundamentally opposed to democracy."
Watch Meyers' full monologue here: