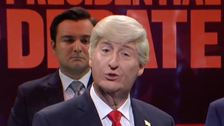 "Not a lot of chemistry between those two, right? They make me and Melania look like Taylor and Travis," Trump quipped.
He went on to take aim at "SNL" for giving Ego Nwodim and John Higgins the roles of Vivek Ramaswamy and Florida Gov. Ron DeSantis in the parody, respectively.
"Poor Ron DeSantis, even 'SNL' doesn't think he has a chance. If they did, it'd be like Paul Rudd or something in there, right?" Trump said.
Trump, who said he's busy going from trial to trial or "'House Hunters' but with courtrooms," later suggested he'd throw one of his children under the bus amid his legal woes.
"It'll be very sad when I pin it all on one of them, probably Eric," he said.