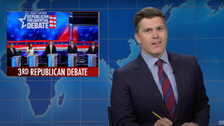 Jost, on Saturday, let Ramaswamy's words do the talking after the multi-millionaire entrepreneur dragged the party in the wake of harsh election losses last week.
"Vivek Ramaswamy started by saying that the GOP had become a 'party of losers.' Weirdly, a 'party of losers' was also how NBC advertised the debate," Jost quipped.
Jost later mocked the tense debate exchange between Ramaswamy and fellow GOP candidate Nikki Haley.
"He also stressed that it's not important how he knows her daughter has a TikTok account," Jost added.
The co-anchor continued, noting that Haley swiftly responded to Ramaswamy and told him "leave my daughter out of your voice."
You can check out more from the "Saturday Night Live" bit below.