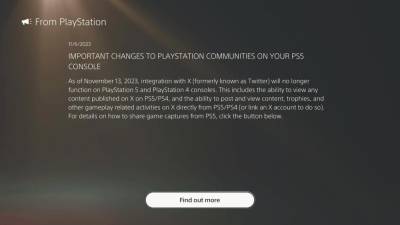 LIKE Microsoft dumping X, formerly known as Twitter, back in April, Sony has decided to do the same, adding yet another slew of reasons to not use the platform any longer.
First spotted on X and then PlayStation's support website, PlayStation 4 (PS4) and PlayStation 5 (PS5) users will see the consoles terminating X integration starting in the middle of this month.
"As of Nov 13, integration with X will no longer function on PS5 and PS4 consoles. This includes the ability to view any content published on X on PS5 or PS4, and the ability to post and view content, trophies and other gameplay-related activities on X directly from PS5 or PS4 or link an X account to do so," the statement by Sony read.
Since 2013, Twitter, Facebook and YouTube have been the major social media platforms that allowed a direct PS4 connection when the sharing feature first debuted. More than that, the share function caused the PS4 to launch with its DualShock 4 controllers already having a dedicated button just to share content — be it screenshots or clips — to the Internet.
Sony's decision to add that tiny button revolutionised the ease of sharing game content for normal players who were not using capture cards and dedicated computers to record and upload content to social media platforms.
Towards the middle of April, Microsoft removed X integration from its Xbox consoles and the Game Bar on Windows after X owner Elon Musk announced a new API pricing structure for his platform, which would have cost a company like Microsoft more than US$40,000 (RM186,752) each month.
At the moment, the only current-gen console that still supports X is the Nintendo Switch.