If you're looking to make the switch to an electric vehicle, this Chinese hatchback is your cheapest option.
Prices for the new BYD Dolphin start at about $40,000 drive-away for the Dynamic model and jump to $46,000 for the more powerful, longer range Premium variant.
It's a sharp price that undercuts its main rival, the MG4, by a mere $700 and the GWM Ora by about $2500.
On paper, the Dolphin Dynamic doesn't make the most compelling case. Its single electric motor sends just 70kW and 180Nm to the front wheels, while the 44.9kWh battery delivers a driving range of just 340km.
The Premium version ups the ante with 150kW and 310Nm, as well as 427km of range courtesy of a larger 60.5kWh battery.
The Premium also has faster charging capability (80kW versus 60kW), which means that its larger battery takes the same amount to charge. Both cars can replenish their batteries from 10 to 80 per cent in about 30 minutes.
For city dwellers on a budget, the cheapest Dolphin should be more than adequate.
It's also well equipped for the price, with safety tech that rivals can't match.
The Dolphin is an unassuming hatchback that blends into the crowd with compact proportions and conservative looks. The base version's 16-inch alloy-wheels and the Premium's 17-inch wheels add a bit of pop, as do some funky paint options such as Coral Pink and Maldive Purple.
Step inside and you're greeted by a more toned down cabin compared to the funky BYD Atto 3.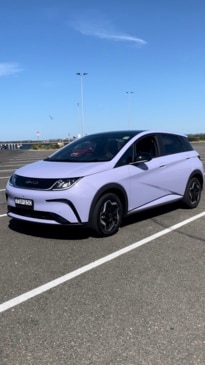 All variants have heated faux-leather seats that are electronically adjustable for both the driver and front seat passenger. A panoramic sunroof gives the cabin an airy feel.
A big 12.8-inch central screen can rotate between landscape and portrait view and is compatible with Apple CarPlay and Android Auto. Satnav is standard, as is a six-speaker stereo, wireless device charger and four USB ports across both rows.
A small driver instrument display is attached to the steering wheel and provides all the necessary information such as speed, distance to empty and energy usage.
You can't have everything in a $40,000 EV, though, and you can tell where BYD has cut costs.
The cabin finishes and materials look premium at first, but on closer inspection, there is plenty of hard plastic.
There are plenty of storage options in the centre console and there are basic climate control buttons in the dash but more detailed controls need to be accessed through the centre screen, which can be fiddly.
The driver's vision to the right is compromised by a giant wedged-shaped pillar, too.
One area BYD hasn't skimped on is safety.
There's a multitude of active driver aids, including an advanced child detection system that will set off the car alarm and turn on the airconditioning if a child is left in a car unattended.
It also has a device to break the window and slash your seatbelt in case the car is submerged in water.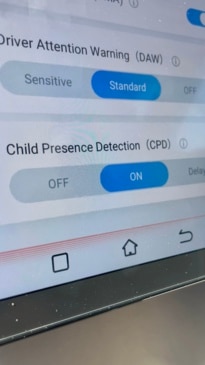 On the road, the cheapest Dolphin is uninspiring.
It feels slow off the mark, taking a leisurely 12.3 seconds to reach 100km/h. Unlike other EVs, there's no instant surge when you put your foot down.
By contrast, the Premium variant reaches 100km/h in seven seconds flat.
Dynamic variants also swap out more sophisticated multi-link rear suspension for a cheaper torsion beam set-up.
This means drivers are less cushioned against bumps and it becomes unsettled when hitting mid-corner corrugations.
The Ling Long EcoMaster tyres don't inspire confidence either, as they can struggle for traction.
But these shortcomings are unlikely to worry the Dolphin's target market, which is looking for cheap, clean urban transport.
The Dolphin excels in the cut and thrust of city commuting, where acceleration and cornering ability play second fiddle to efficiency and mod-cons in the cabin. Its compact dimensions make it a cinch to navigate tight streets and underground car parks.
It's quiet too, with minimal road noise filtering into the cabin at lower speeds.
The car's 340km claimed range appeared accurate after our test loop that took in a range of driving conditions.
BYD covers the Dolphin with a six-year/150,000km warranty and capped price servicing costs $1384 over five years.
VERDICT 3.5/5
Australia's cheapest electric car isn't great fun to drive, but it is more generously equipped than its rivals.
BYD DOLPHIN DYNAMIC
PRICE: About $40,000 drive-away
MOTOR: Single electric motor, 70kW and 180Nm
WARRANTY/SERVICING: Six years/150,000km, $1384 over five years
SAFETY: Seven airbags, auto emergency braking, lane-keep assist, blind-spot warning, rear cross-traffic alert with auto braking, child occupant warning, submerged car escape kit
RANGE: 340km
SPARE: Repair kit
LUGGAGE: 345 litres
Originally published as 2023 BYD Dolphin Dynamic new car review